How is it that the holiday season is already here?! Time has sure flown by at the clinic! We are excited to celebrate the holidays with our team. Tomorrow, Thursday, December 17th, we will be closing at 4:00pm to do just that! In addition, our hours will be slightly different in the coming weeks so that our team can celebrate with their families and friends. Our hours will be as follows:
Thursday, December 17th: 8:00am – 4:00pm
Thursday, December 24th: 8:00am – 2:00pm
Friday, December 25th: CLOSED
Thursday, December 31st: 8:00am – 4:00pm
Friday, January 1st: CLOSED
We will have our regular hours otherwise! As always, we are happy to see emergencies while we are open. Should an emergency arise while we are not in the office, our friends at The Life Center will be happy to assist you and your pet. We'd love to see some pictures of your pets in their most festive holiday attire! You can post your pictures to our Facebook page. We look forward to seeing all the smiling faces! Here's a picture of River, one of our technicians' dogs, channeling his inner reindeer!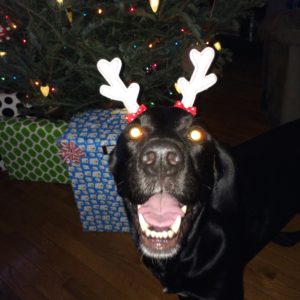 We hope you and your pets have a fantastic holiday season!