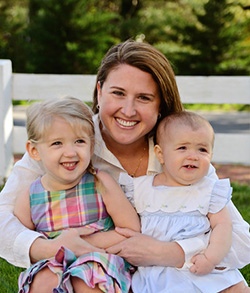 Dr. Katie Kuchinsky was voted one of the best vets in Loudoun County by Leesburg Today.
Originally from Carlisle, PA, Dr. Katie Kuchinsky grew up in Baltimore, Maryland. She completed her undergraduate studies in Biology at the University of Richmond, and received her Doctorate of Veterinary Medicine from Ross University. She completed an additional year of training at the University of Minnesota, taking part in a rotating small animal internship in internal medicine, surgery and emergency medicine.
Attracted to the hometown feel of the Clinic and its surroundings, Dr. Katie moved from Minnesota to Leesburg to take over MSAC in 2009. She carries on the MSAC tradition of combining modern veterinary medicine with traditional loving care for our four -legged family members. Her veterinary interests include preventative medicine, geriatric medicine and dentistry.
Dr. Katie's goal is to enhance the quality of life for all families in the Leesburg area by working diligently to improve the health, safety and care for all animals in Loudoun County. She is a member of the Loudoun County Veterinary Medical Association, the Virginia Veterinary Medical Association, and the American Veterinary Medical Association. She works with both the Humane Society and Loudoun County Animal Shelter. She offers no charge initial exams for newly-adopted animals from both organizations. She also works with the Loudoun County Sheriff's Office, Save the Tails Rescue in Purcellville, the Blue Ridge Greyhound Association, the Colonial Newfoundland Club and the Cavalier Rescue, and has talked with children at the local 4H. MSAC also sponsors local swim team the Evergreen Meadows Makos, and the Nova Roller Derby.
Dr. Katie lives in Leesburg with her husband, Ryan, their two daughters, and two black labs.